Your Trusted Source for PVC Foam Board, PVC Trim & Moulding, Rigid PVC Sheet, Acrylic, and More
What Kind Of Material Could Be Glued With PVC Foam Board Perfectly?
Can PVC foam board be glued with other materials?
PVC foam board is an ideal material for decoration. However, sometimes we need the various options of the surface so that could strength the beauty and practicability. Therefore, it is necessary to glue all kinds of patterns or other plastic boards with PVC foam board. Then the question is Can PVC foam board be glued with other materials? What kind of material could be glued with PVC foam board perfectly? PVC foam board could be definitely glued with other materials. The common materials which could be glued with PVC foam board are as below: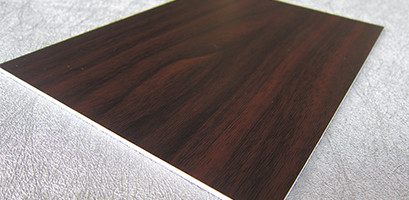 PVC wood grain film is used widely in decoration, and it could be laminated to the surface of PVC foam board well, which makes the surface looks more beautiful. The regular method to do the gluing is flatbed press gluing.
During the process of gluing, the following should be paid attention to:
1.1 PVC wood grain film must be back-coated, otherwise it will not be easy to glue, not paste well in the process of laminating.
1.2 Usually make one side of PVC wood grain film adhesive with roller coating or blade coating.
1.3 Glue coating must be homogeneous and same thickness to ensure no glue missing and no glue accumulate on the board. The thickness of glue coating should be adjusted according to the thickness of film and weather.
1.4 Time after glue before coating, summer or autumn season with hot and dry condition, time can be shorter, while and cold and humid winter and spring, time can be longer. The best gluing timing is when touching the surface of the glue with fingers, feeling it is almost dry but sticky, and then keeping it on the exact position, sticking the both sheets with flatbed pressing.
How long the time needed to do the gluing is determined by the thickness of the coating, the speed of doing the coating and the temperature of the environment.
Tempered glass laminated PVC foam board is a new laminated way in recent years, tempered glass has the advantages of high safety, high strength, good thermal stability, UV stable and so on, which is widely used in benchtop, countertop, coffee top, building doors and windows and so on.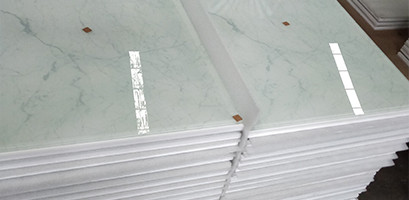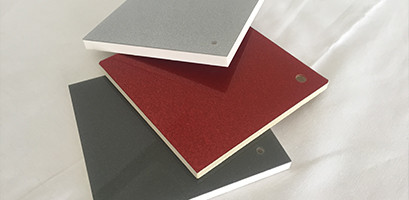 The surface of PVC board can also be glued with acrylic. Acrylic, also known as PMMA, has good transparency, chemical stability and weather resistance, beautiful appearance, has been widely used in the construction industry and decoration field.
4.Decorative High-pressure Laminate
Fire waterproof board is also known as refractory board. Its scientific name is high-temperature laminated board of thermosetting resin impregnated paper. The abbreviation is HPL (High-pressure Laminate). HPL board is a fire-resistant building material for surface decoration. It has rich surface color, texture and special physical properties.
Undoubtedly, HPL can also be laminated with PVC foam board, which enriches the surface of the foam board and can be widely used in interior decoration, furniture, cabinets, laboratory countertops, exterior walls and other fields.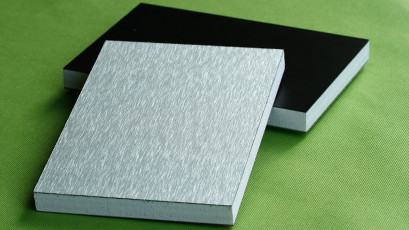 GET A QUOTE
If you have an idea but you don't know what kind of material to use, which way to process it, please feel free to share your idea with us and we will provide you the best solution!
  Email us at sale@boardwaybuilding.com
Manufacturing, Wholesale, Custom Processing for Plastic PVC Sheets and Profiles