Plastic PVC Sheets & Profiles Manufacturing, Wholesale and Custom Processing | BOARDWAY
PVC foam board laminate (PVC foam board) refers to covering thin surface material on one or both sides of a PVC foam board, thereby making the PVC foam board more aesthetic, selective and versatile.

When we use PVC foam board as wall panels, wardrobes, wine cabinets, kitchen and bathroom cabinets, or any other furnitures, we may prefer to use PVC boards with decorative surfaces instead of pure white or single-colored PVC foam boards. Just like MDF or particle board with PVC film covering, PVC foam board can also be covered with PVC film or other surface materials. Many of our customers purchase sanded PVC foam board from us, and laminate the skin material in their own processing plants.

Boardway manufactures PVC foam board, and we have laminate processing capability to provide customers with laminated PVC foam sheet. The options for surface materials include PVC film, HPL, aluminum film, acrylic, PET, etc. Customer may choose the surface design from the supplier we often cooperate with, or provide us with surface materials for lamination. In addition to PVC foam boards, WPC foam boards are also suitable as laminate substrates. The most popular are marble PVC foam (PVC foam board laminated with marble PVC film) and WPC foam board laminated wood grain PVC film.
For more details about PVC foam board laminates, please click to view the products below, or
contact us
for a quick quote.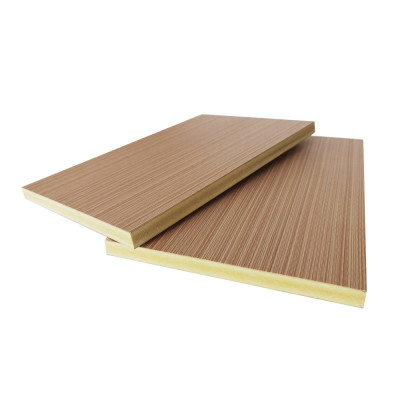 BOARDWAY™ PVC foam board laminates are available in a variety of styles, making them ideal for furniture and decorative panels.
Everything You Want to Know About PVC Foam Board Laminate
Laminated
PVC foam board refers to a thin decorative material covered on one or both sides of a PVC foam board. It consists of three parts, substrate, glue and decorative surface material.
It is often used in the manufacture of kitchen cabinets, bathroom vanities, Interior decoration and boat furniture etc.
PVC foam board combines various decorative boards by laminating different surface materials. Surface options are PVC film, HPL, aluminum sheet, acrylic sheet, PET sheet. What are their advantages and disadvantages? In this blog, we will give you some tips for shopping.
Have you ever had these questions about laminated PVC foam sheet? For example will it be able to stick firmly to the PVC board? Is it scratch resistant? its service life? Is it odorless and formaldehyde-free? Let's find answers to some frequently asked questions from our customers.

PVC foam sheet, with an expanded closed-cell core, is mainly made of polyvinyl chloride and is one of the most widely used plastic sheets. It is light in weight, water-proof and mildew-proof, can be used in the humid environments. Discover the properties of PVC foam board in this blog.
PVC foam board is an ideal alternative to wood board, it has many advantages such as waterproof, flame retardant, printable, and easy to process. So, what processing methods are suitable for PVC foam sheet? What tools and machines can we use to process it? Check out this blog on how to process PVC foam board.

PVC foam board is always compared with MDF and other wood boards. What are the advantages of PVC foam board? Why choose PVC foam board instead of artificial wood board? Is it worth paying the higher price for it? You will find the answer in this blog.

If you have an idea but you don't know what kind of material to use, which way to process it, please feel free to share your idea with us and we will provide you the best solution!
&nbspEmail us at sale@boardwaybuilding.com
Manufacturing, Wholesale, Custom Processing for Plastic PVC Sheets and Profiles