5 Properties You Should Know about Expanded PVC Sheets
PVC sheet is one of the most widely used plastic sheets. PVC, is short for polyvinyl chloride. There are two types of PVC sheets,
expanded PVC foam sheet
and
rigid PVC sheet
, which are all manufactured by extrusion production process. Friends who want to know the manufacturing process of PVC foam board are welcome to read our previous blog. In this blog, we are going to share the properties of PVC foam board.
What Are the Properties of PVC Foam Board?
1. PVC foam board is light in weight.

Before the PVC foam board is formed into a board, that is, when everything is still a molten material, the molten material generates tiny bubbles under the action of the foaming agent and expands uniformly. (This process can also be described as the process of bread fermentation, which may be easier to understand.) After the PVC foam board is shaped and cooled, these numerous tiny dense cells remain in the PVC foam board core. It is this manufacturing process that makes the PVC foam board retain a hard surface and a high flatness of the board, while having a lighter weight. The density of common PVC foam boards is between 0.5g/cm3 and 0.6g/cm3. That is to say, PVC foam sheet is only half as light as hard PVC sheet. Compared with plywood, PVC foam board is usually the same or lighter in weight.
2. PVC foam board is waterproof and mildew proof.
PVC sheets are non-absorbent, which is a common property of most plastic sheets. Expanded PVC foam board has a closed-cell structure, which is also resistant to water. It is precisely because the PVC foam board is made of polyvinyl chloride material and its non-absorbent properties, this condition is not suitable for mildew reproduction, so it can be said that the PVC foam board is mildew-proof. Taking advantage of such properties, PVC foam board is very suitable for applications in humid environments, such as kitchens, bathrooms, boats, greenhouses, etc.
3. PVC foam board is self-extinguishing.
Polyvinyl chloride is a non-combustible material. The combustion performance of common PVC foam board is the B1 Class of the GB 8624-2012 standard, which means that it is a building material that is difficult to burn. PVC foam board is difficult to burn when encountering a fire in oxygen or at high temperature, it is not easy to spread quickly, and it extinguishes quickly after the fire leaves. In addition, we can manufacture flame retardant reinforced PVC foam board. It can meet the highest level of the GB 8624-2012 standard, and can also meet the A Class of ASTME84-16. The flame retardant reinforced PVC foam board produces almost no burning substances.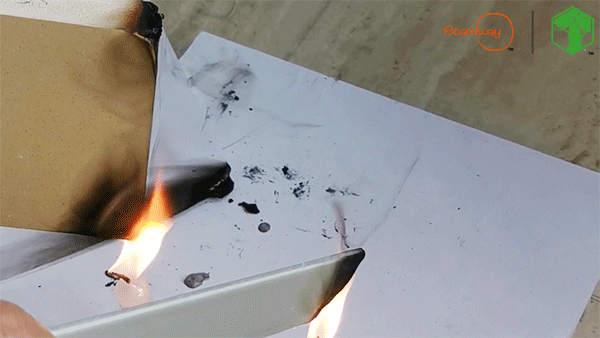 4. PVC foam board is easy to process and printable.
PVC foam board can be easily sawed, cut, drilled, nailed, planed, glued, sanded, laminated, painted, etc. Moreover, there are no special requirements for tools to process PVC foam boards, and common tools can be used. PVC foam board can be cut into openwork decoration by CNC router, thin decorative surface material can be laminated on PVC foam board, and grooves and tongues can be planed on its side. Therefore, when applied as building boards, PVC foam board is an ideal substitute for traditional wood boards. In addition, PVC foam board can be printed, and the printing method can be screen printing or digital printing. It is a printing material that is widely used in the advertising industry. The sign boards made of PVC foam board can be used both indoors and outdoors.






5. Impact resistance and screw-holding strength of PVC foam board.
Good quality PVC foam board has good impact resistance and screw holding power. We have done relevant performance tests, please click on the video below.
Boardway
is a Chinese manufacturer and supplier of PVC foam board. We have more than 15 years of experience in the manufacture and application of PVC foam board and other plastic sheets. If you would like to know more about PVC foam board, or you have the needs of custom PVC foam board, please feel free to WhatsApp Helen at
+86 13828266785
or email us at
sale@boardwaybuilding.com
.
Check out more blogs on
PVC foam board