The Uses of PVC Foam Board in Cabinet Furniture
In our previous blog, we shared the
use of PVC foam board in printing and sign
. We hope this blog can be helpful to friends who are about to start a business in the advertising industry and have a better understanding of PVC foam board.
In this blog, we will share another common use of PVC foam board, which is its use in furniture.
PVC foam board is a rigid foamed plastic sheet with polyvinyl chloride as the main raw material. Its significant advantages include waterproofing, mildew resistance, termite resistance, flame retardant, weather resistance, formaldehyde-free, easy processing, and low maintenance. These excellent properties of PVC foam board make it
an ideal alternative to wooden panel
.
The types of PVC foam board are PVC free foam board, PVC celuka board, PVC co-extrusion board.
Compared with PVC free foam board, PVC celuka board and PVC co-extrusion board have a harder surface and are more suitable for use as furniture. Especially the PVC co-extruded board, its surface is glossy and harder, which highlights its advantage that it can be used directly without any surface treatment.
Celuka board gives customers more surface options. In addition to the common smooth surface, we also provide matte surface, wood grain surface, brushed surface, and non-slip textured surface. If the solid color furniture board can't satisfy you, maybe the PVC foam board laminate can. PVC foam board can be laminated with various types of surface materials, improving aesthetics and enhancing properties such as flame retardant, scratch resistance, and anti-fingerprint.
Now, Let's take a look at some cases of PVC cabinets according to different usage scenarios.
Outdoor Module Cabinet for Barbecue
In these three cases, the cabinet boards are PVC co-extruded boards, HPL-laminated PVC foam boards, and PVC film-laminated PVC foam boards.
The pictures below show the PVC cabinet in our colleague's house. It is hung on the balcony wall to store gardening tools, sanitary appliance and cleaners. This cabinet has been in use for nearly 10 years and is still in perfect condition.

For PVC cabinets used on vehicles, we recommend using a horizontal cabinet with a thickness of 18mm or 20mm and a density of more than 0.65. The high-strength board can ensure that the cabinet will not shorten the service life due to the shock caused by driving.

The design of the DIY assembly cabinet is flexible, and it can have more creative designs for different storage purposes in different spaces.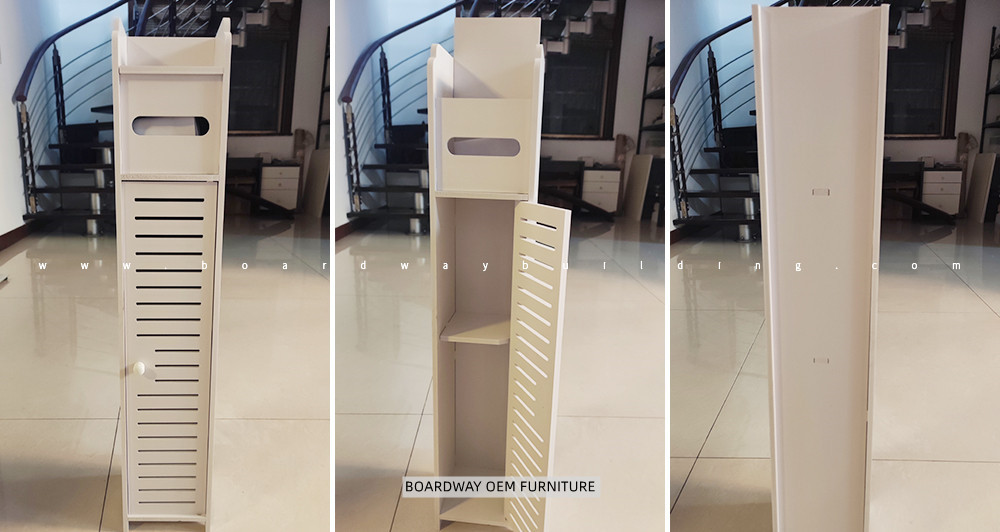 Boardway
is a Chinese manufacturer and supplier of PVC foam board. We have more than 15 years of experience in the manufacture and application of PVC foam board and other plastic sheets. If you would like to know more about PVC foam board, or you have the needs of custom PVC foam board, please feel free to WhatsApp Helen at +86 13828266785 or email us at sale@boardwaybuilding.com.
Boardway Processing Services
1. Cut to size and CNC engraving
2. Silk screen printing, digital printing, painting
3. Thermal processing, bending, embossing
4. Pre-drill, nail, screw and assemble
5. Sanding, PUR lamination, PVC edge banding
6. Corners and edges rounding, chamfering, grooved and tongued