What is Foam PVC Sheet Used for?
Foam PVC sheet is a multifunctional rigid plastic sheet. Its standard size is 4x8 feet (1220x2440mm), and the thickness ranges from 3mm to 30mm. PVC foam sheet is light in weight, and the common density range is 0.45 to 0.65g/cm3, which is more than half lighter than solid PVC sheet. White and black are its standard colors, and other colors such as red, brown, gray, green, yellow, blue, pink, etc. can also be customized. Various specifications give us more options when using PVC foam sheets. Next, let's talk about the uses of foam PVC sheets.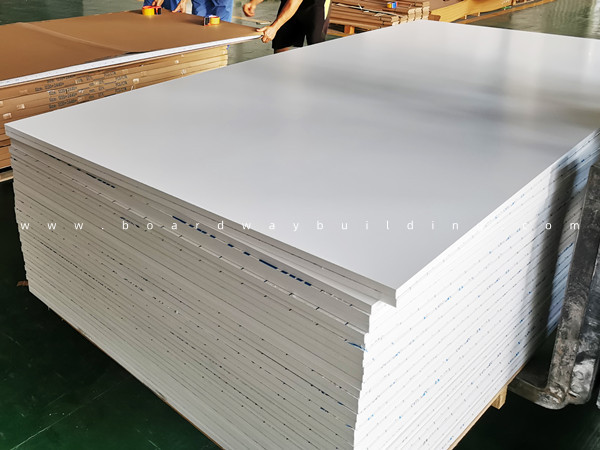 Foam PVC sheet has a hard surface and a strong body. The smooth surface allows the ink to stay on the board well after printing without falling off easily. In addition, PVC foam sheets are waterproof and durable, and can be used both indoors and outdoors. In the advertising industry, it is an ideal material for use as sign boards, such as medium and long-term interior sign boards, outdoor walkway and yard sign boards. PVC foam sheet is highly machinable and can be CNC engraved into letters and symbols, etc. for use as logos.
Foam PVC sheet is impact resistant and can be easily sawed, drilled, chamfered, screwed, nailed, grooved, sanded, edge sealed, bent, etc. We can say that any application that particle board and MDF can do, PVC foam sheet can also be competent. Compared with the two, PVC foam sheet has significant advantages, that is, it is resistant to moisture, mold and rot. Such characteristics make it suitable for use as kitchen cabinets, bathroom vanity cabinets, furniture in wet environments and marine use, etc.
With a strong aluminum profile frame, the PVC foam sheet can act as a partition and a temporary wall, and play a key role in exhibitions, temporary hospitals, and mobile offices. Compared with the traditional MDF, PVC foam sheet is waterproof and durable, and has a longer service life. Compared with solid plastic panels or metal panels, wall panels made of PVC foam sheets are lighter in weight and are easy to install, transport and store.
Boardway
is a Chinese manufacturer and supplier of PVC foam board. We have more than 15 years of experience in the manufacture and application of PVC foam board and other plastic sheets. If you would like to know more about PVC foam board, or you have the needs of custom PVC foam board, please feel free to WhatsApp Helen at +86 13828266785 or email us at sale@boardwaybuilding.com.
Boardway Processing Services
1. Cut to size and CNC engraving
2. Silk screen printing, digital printing, painting
3. Thermal processing, bending, embossing
4. Pre-drill, nail, screw and assemble
5. Sanding, PUR lamination, PVC edge banding
6. Corners and edges rounding, chamfering, grooved and tongued